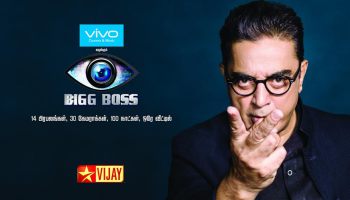 Joining issues with a petition presently being heard by the Supreme Court on a similar matter, the Madras High Court yesterday directed the federal government to clarify on the existing regulatory setup governing contents aired by television channels in India.
The first bench comprising Chief Justice Indira Banerjee and Justice M Sunder gave this direction to assistant solicitor general Su Srinivasan, who appeared for the central government, during the hearing of a public interest litigation (PIL) to stop telecast of Tamil reality show 'Bigg Boss', hosted by actor Kamal Haasan on Vijay TV, part of Star India, according to a report filed by PTI from Chennai.
The matter has been posted for further hearing on August 18, 2017.
Earlier, senior counsel P S Raman, who appeared on behalf of the actor and anchor of the TV show, submitted that there were two bodies to regulate the channels. One was the Broadcasting Content Complaints Council (BCCC), a self-regulatory body headed by a retired Supreme Court judge and the other was ministry of information and broadcasting (MIB), the PTI report quoted Raman as telling the local high court.
BCCC is a self-regulatory body set up by the Indian Broadcasting Foundation, an industry organisation that has a large number of TV channels as its members. Though there's no formal content regulatory body in India on the lines of American FCC or the UK's Ofcom or Singapore's MDA, IBF's self regulatory body takes up complaints relating to TV content. Separately, the content code, part of India's Cable TV Act (enforced by MIB) outlines broad guidelines for TV content.

Click here to read the full story.