IBC Tamil Radio was launched in June 1997 and was the 2nd 24 H Tamil radio-station broadcasting on satellite in Europe. Since the launch it was a respected Tamil media with broadcasting focus on the freedom struggle of Eelam Tamils in Sri Lanka.
It was regarded as a "national radio of Eelam Tamils" for diaspora Tamils. Many bounds were made - especially with the take over of TRT Tamil TV (Tamil Radio & Television) from Paris. For a time a media alliance with IBC Tamil Radio, TTN Tamil TV and TRT Tamil Oli (later ABC Tamil Oli) existed.
After the civil war ended in Sri Lanka in 2009, IBC Tamil radio came under different managements and many presenters from the beginning left the channel and some started their own stations. In 2014 it was taken over by London Tamil Media Ltd. and is now owned by former Lebara founder, Baskaran Kandiah.
London Tamil Media Ltd.
The new management managed to attract presenters who have worked for different Tamil medias like Cee(I)TV Tamil, Deepam TV, TTN Tamil TV, Vettri Vaanoli, Thamizhamutham Radio, Global Tamil Vision (GTV) etc. under IBC Tamil umbrella and the service expanded to a 24 H Tamil TV too with the same name in 2015.
Today London Tamil Media Ltd. is operating IBC Tamil Radio, IBC Tamil TV, IBC Pagadi TV (Comedy), IBC Bakthi TV (Hindism), IBC Siluvai TV (Christianity), IBC Isai TV and IBC Mazhalai TV (Kids) - and it is expected that a news channel - and maybe also a movie channel is on the way from the network in the future.
It has opened a studio in Paris, Chennai and Jaffna - and also launched its own IPTV box called Vadali.
IBC Tamil TV has also launched in Canada with Asian Television Network as ATN IBC Tamil, and soon it is going to launch its own studio in Canada in the former studio of Tharakai TV from Canada.
For a short period it was also possible to watch IBC Tamil TV through Lanka TV Box in Jaffna, but the channel was removed again. But IBC Bakthi TV is available as IPTV on Dialog TV service in Sri Lanka.
IBC Tamil TV:


In the beginning many wellknown presenters and new presenters from UK joined the channel. Many programmes were produced from Europe along with programmes from India and some from Sri Lanka.
IBC Tamil TV was - and is still the only Tamil TV-channel in Europe, which is still showing daily live news from its studio in Europe with a presenter from Europe.
After the opening of IBC Tamil Jaffna studio the news programme on 13.00 & 17.00 CET were replaced by news from Jaffna studio instead.
The live show "Anthi Varum Neeram" from 18.00-19.00 CET on weekdays has lost some of its regular presenters and is now only running as a live programme some days with some presenters from IBC Tamil Radio.
The weekday morning show, Vanakkam Tamil, has also lost many of its presenters and was for some time only done by few presenters. Now this programme is also produced by presenters from IBC Tamil Jaffna studio.
The prime time slot consist of Anthi Varum Neeram from 18.00-19.00 CET, Vanakkam Thainaadu from 19.00-20.00 and from 20.00-21.00 IBC Tamil TV is showing some replays and then a classic serial called Marma Desam, which was showed on TTN Tamil TV for many years ago. It is sad that IBC is not using the prime time to show a new serial or an entertainment programme or another programme to attract more viewers.
It is also important to involve presenters from Europe in programmes as it makes the channels more familiar because today we see more and more channels from "Europe" with only presenters and programmes produced in Sri Lanka/India.
IBC Tamil Radio:
In the beginning of the new management in 2014 many of the former IBC Tamil presenters joined IBC Tamil again. But later due to some unknown reasons many of them left IBC again and some joined the more Eelam-focused ILC Tamil Radio.
Most programmes on IBC Tamil Radio were broadcasting live from UK, but some news programmes were broadcasted live from Sri Lanka.
After the opening of Jaffna studio, first Vanakkam Tamil programme was handed over to new presenters from Jaffna studio. Then Malarum Pookkal programme from 07.00-08.00 CET was handed over, and now almost all programmes from 07.00 to 16.00/16.30 CET are broadcasted live from Jaffna studio.
IBC Isai TV:


In the beginning IBC Music was showing different programmes and back-to-back songs. Between the programmes the same advertisement about IBC Tamil newspaper was telecasted again and again every day. For almost for over a month now IBC Music was facing some technical programmes and currently it is only showing the same block of songs again and again. No information is provided about what has happend or when the normal programming will be back.
But the channel is just running as no one cares for it in the management. IBC Music has a global reach through Yupp TV and through IBC website and through various sources, but instead of improving the channel and make it better than the existing music channels, IBC Music is just showing back to back songs with no improvement since the launch. Even the rival Lyca TV Music is doing it better than IBC Music.
The channel could introduce live programmes to interact with the global Tamil viewers and show different kind of music programmes to improve the channel instead of just being a number of the number of Tamil music channels in the world.
IBC Pagadi TV:


The channel is just showing back to back comedy clips - like all other comedy channels available for free online - like Akaram Galatta. The channel could be improved by showing more comedy based programmes - like comedy movies in the weekends, comedy serials, standup comedy programmes, etc.
IBC Bakthi TV:


The channel could actually be renamed IBC Thuruvizha TV instead. Instead of showing more informative programmes about Hinduism, the channel is almost only focusing on showing thiruvizha programmes from different temples. When the channel was launched it was expected it could be a different channel than other Hindu channels, but it has become a disappointment too. Even the big Hindu holydays are not given attention on the channel with special programmes etc.
A Hindu channel could focus on showing programmes about explaining the Vedas, Upanishads, Ramayanam etc., show Hindu serials like Mahabharatham/Ramayanam, special show for Kids about Hinduism, vegetarian foodmaking programmes, programmes about Hindu Gods, etc.
IBC Mazhalai TV:

At the launch event in UK, the different programmes IBC Mazhalai TV was going to show was presented. The channel was also added on Yupp TV. But since the launch in January the channel has only been telecasting test transmission. Now the "Test Transmission"-label has been removed on the screen, but still the channel is showing the same non-stop programmes earlier shown on IBC Tamil TV: Thanga Tamil Kural Juniors or Nilavai Pidippoom. Not even a information about when regular programmes will start is informed to the viewers. So new viewers will only get a bad impression when they switch on to the channel, when they can see that it is only showing the same block of programme everyday...
But it is very positive that a Tamil media company outside India/Sri Lanka is launching a TV-channel for children.
IBC Siluvai TV:


The channel is currently running in a good way.
IBC Tamil website
The website was redesigned in the beginning and new features never seen on other website was introduced - for example all articles had audio versions of the text in the article. But after a redesign of the website again - the feature was removed and the website is not looking more simple.
There has been added a TV-player with live stream of all IBC channels, but still an updated TV-schedule page for the channels is missing. The radio-page has a a page with all presenters working for IBC - but it is also not updated. Actually the website also need a lot of improvement.
In the meantime the owner of IBC Tamil has bought LankaSri.com, Tamilwin.com, Manithan.com and CineUlagam.com. Besides they have also launched IBC Tamil Newspaper and IBC Tamil magazine.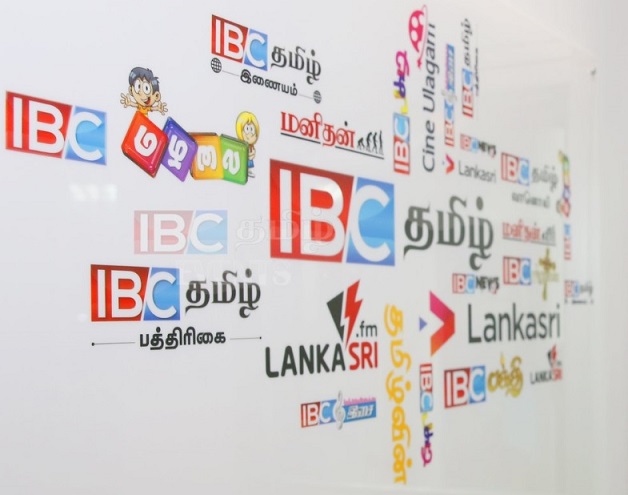 It seems to be that the management has been very busy with expanding the service instead of maintaining the existing channels. They weight quantity more than quality - and that is sad. Today many web-based channels exist which just show non stop music videos or non stop comedy clips. It has been easy to launch a webbased TV-station and the quality of running a TV-station has decreased a lot compared to Tamil channels telecasting on satellite. But IBC is doing a great job, but the quality of the service has decreased since the launch. You don't even get an answer when you write to the official IBC profile on facebook as before. So the question is - where is IBC heading to? Will they become just like other media services or will they do it better? It does not seem to be that money is a problem to run a good service as they are expanding, but it is important to improve and make things better - or you will be overrun by others or loose your viewers...

- MEDIA ASIA