Lebara, a telecoms company that offers migrants across Europe cheap international phone calls, has to file audited annual results next week or it will risk a technical default on its bonds.
The €350m bond in question is trading at deeply distressed levels after several errors in the company's financial reporting, which Lebara's management have attributed to a "genuine mistake". Here's a chart of the bond price: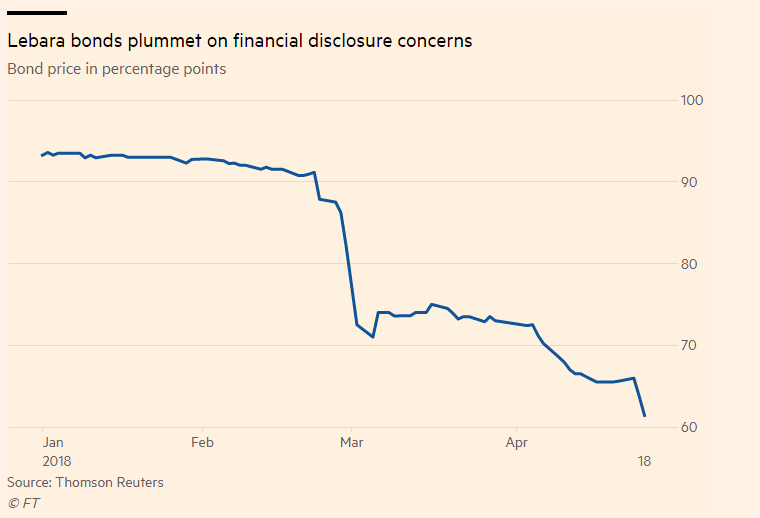 If you live in London, you will almost certainly have seen the logos of Lebara and its rival Lycamobile emblazoned over newsagents across the city. Here's a Lebara-branded store one shop down from a Lyca-branded store in Whitechapel: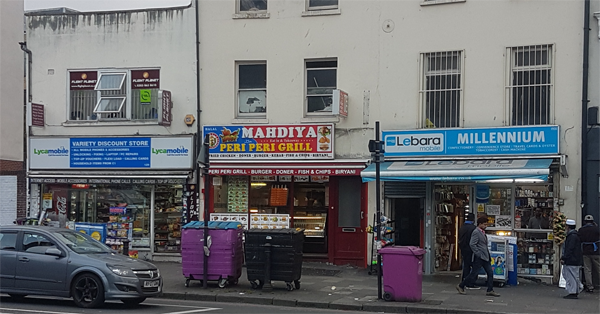 Lycamobile has also been in the headlines this month after Buzzfeed News published its latest article in a long-running series about suspected money laundering at the business (Lyca has denied the allegations made in Buzzfeed's articles).
Both rival companies were founded by Sri Lanka-born businessmen. Lebara draws its name from two letters from each of its three founders: Rasiah Ranjith Leon, Ba skaran Kandiah and Ratheesan Yoganathan.
In Lebara's case, however, the founders cashed out and sold the business last year. The buyer was a little-known Swiss family office called Palmarium, which funded the bulk of the €420m purchase price through the €350m bond sale in September.
The bond carries no credit ratings and was largely placed with Scandinavian investors in the light-touch Nordic bond market, with the deal's documents written under Norwegian law. When the bond was raised, an accompanying investor presentation said that new owners Palmarium were putting in €95m of equity to help fund the acquisition and that the business generated €64m of Ebitda in 2016, equating to a purchase price multiple of around 6.5 times.
The presentation itself did not make clear, however, that €85m of this equity came from the contribution of Lebara's intellectual property and brands, which Palmarium had acquired separately. (This is a good reminder to investors to always read the prospectus, as the in-kind equity contribution was outlined on one page of a 106 page "information memorandum" accompanying the bond sale.)
Even more crucially, the investor presentation's Ebitda number did not include results from several loss-making subsidiaries. When these loss-making subsidiaries are included, the Lebara Group made just €2m of Ebitda in 2016. You may have noticed that using this figure equates to a rather higher purchase price multiple of 210 times.
Lebara's new owners and management say that they are in the process of either winding down or selling these loss making non-mobile subsidiaries. They are forecasting a healthy €54m of Ebitda generated by the overall group for this year and say that this reorganisation will be completed by the first quarter of 2019.
Given the recent mishaps in financial reporting and accompanying crash in Lebara's bond price, this process of selling off the subsidiaries is now under a lot of scrutiny. Bondholders have also sought more information about Palmarium and its investments, due to the Swiss group's relative obscurity in the private equity space.
This post will take a closer look at both the Swiss family office that now owns Lebara and the company's recent sale of Lebara Play, a Netflix-inspired service with a library of Tamil language films.

Click here to read the full story.