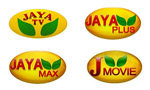 Mavis Satcom, which operates channels under the Jaya TV banner, has become the first broadcasting company to comply with regulator TRAI's order to publish updated channel prices by end of day today.
The company published prices of four channels and one bouquet.
The channel prices remain unchanged and range from Rs 0.50 for Jaya Plus to Rs 6 per month for Jaya TV HD. A bouquet or pack containing all four channels has been priced at Rs 8 per month.
On January 1, TRAI unveiled new rules for the pricing of TV channels under which no channel that is priced above Rs 12 per month can be included in a bouquet/package. The purpose of the amended regulations is to bring down consumer prices.
TRAI also stipulated certain conditions, including that the sum of all individual channels in a pack cannot be more than 1.5 times the pack price.
For example, in case of Jaya TV's bouquet, the sum of all channel prices should not be more than 1.5 times the price of the pack. Given that the price of the package is Rs 8, the sum of all channels should not be more than 1.5 times 8, or Rs 12 per month.

Click here to read the full story.