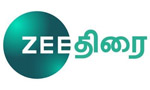 Media conglomerate ZEEL will launch its Tamil movie channel Zee Thirai on 19th January. The new channel was unveiled at the first-ever Zee Cine Awards Tamil 2020 that was held on 4th January.
The announcement was made during the momentous occasion by ZEEL CEO India Broadcast Business Punit Mishra along with the actor Dr Kamal Hassan. While Mishra thanked the audience for their immense love and support towards Zee Tamil and dedicated the new channel to the people of Tamil Nadu, Kamal Hassan officiated the launch of Zee Thirai with a clapboard to an ecstatic audience.
The channel's brand tagline is 'Rathathil Kalandhadhu Cinema' which literally translates to 'Cinema is infused in our blood' represents the passion and impact that movies have on the Tamil Market and the power that it has to inspire the dreams and visions of the common man.

Click here to read the full story.