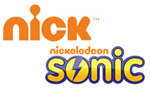 Nickelodeon the category leader that has remained the undisputed No. 1 over 6 years has added yet another feather in its cap. Nick and Sonic, are now present in 8 languages- Hindi, Gujarati, Bengali, Marathi, Malayalam, Tamil, Telugu and Kannada. This step fortifies Nickelodeon's category leadership, making Nick and Sonic the only two channels that are available in 8 languages making them the most inclusive kids television channels, entertaining kids across the country- be it north, south, east or west.
Enhancing the engagement and viewing experience, all the kids' favorite shows such as Motu Patlu, Ninja Hattori, Rudra, Golmaal Jr, Shiva amongst many are now available to them in their preferred language.
The language feeds will provide linguistic simplifications, drive a deeper connect and give viewers and advertisers an opportunity to engage with the brand in a very relatable manner. The market expansion will be amplified locally (Kerala, Maharashtra, Gujarat & Bengal) through micro targeted marquee marketing initiatives that will drive awareness and visibility of Nick and Sonic being available in the respective local languages.

Click here to read the full story.