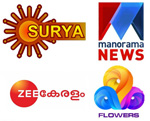 After months of standstill, GECs across some states have been permitted to resume indoor shooting of serials with strict guidelines. Regional channels are slowly treading the path to normalcy, Malayalam GECs being one.
Malayala Manorama Television COO Satheesh PR shares, "Traditionally, most Malayalam fiction has been indoors. There are some arrangements through the government-owned Chitranjali studios to enable outdoor shoot in a controlled environment and we have a large studio floor of our own which will be put to use for non-fiction with all the guidelines being followed.
"MMTv has been fortunate to have been managing a profitable business with a fairly decent-sized team. While the entire industry is facing a cash crunch, I don't think the channel's focus being regional might alter the issue."
Zee Keralam too has resumed indoor and outdoor shootings of its programmes and serials from 1 June onwards, strictly adhering to Covid2019 protocols. The shooting is with minimal technicians and crew members following social distancing, wearing masks, gloves, shields and frequently sanitising their hands. The floors of the shooting studio will also be disinfected before and after the shoot.
Zee Keralam business head Santosh J Nair says that the shooting unit has been downsized and the channel is giving priority to the safety of its team members.
"Zee Keralam's shoots are happening with limited number of crew members (25 people), as permitted by the government. There is a daily temperature check for everybody and all members present on the shoot are compulsorily wearing masks throughout. Even the artistes remove their masks only for the specific shot. We try and finish the shoot with as less takes as possible to ensure banking of episodes and we bank as much footage as possible within the day," he explains.
Surya TV has also resumed shooting with 20 people on set. Surya TV business head Reghu Ramachandran shares, "Surya TV is adhering to all government guidelines and having lesser people on the set has not affected the output in any manner."

Click here to read the full story:
https://www.indiantelevision.com/television/tv-channels/regional/malayalam-gecs-resume-shooting-hopeful-of-ad-recovery-by-onam-200622