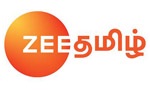 Complying with the directives issued by the Tamil Nadu State government, Zee Tamil has resumed shoots of the fiction shows. The viewers of Zee Tamil can expect original content and hit the resume button on the journeys of their favourite characters from 27 July.
As an initiative to spread cheer and positivity among their viewers, Zee Tamil has also launched a digital and on-air comeback campaign with the tagline 'Idhaythal inaivom, idhaiyum kadapom'– which translates to - if we come together in spirit, this too shall be overcome.
The utmost priority for Zee Tamil as the channel resumes shoot is to ensure the safety of all personnel and actors on set. Several measures have been put in place to ensure the same. A team of safety experts is brought in to sanitize and disinfect the sets, prior to shoots. This is a 9-hour process that is conducted prior to shoot schedule. In its efforts to ensure that every measure is taken to mitigate risks, a government approved team is invited to the sets to conduct a thorough inspection once the sanitisation procedure is complete.

Click here to read the full story.