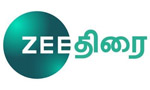 Ever since its inception, Zee Thirai has aimed to transform movie viewing experience for Tamil cinema lovers and has set a benchmark with a robust library and exceptional segments. With the cricket season kickstarting in India, Zee Thirai is all set to entertain its ardent viewers by launching yet another exciting new segment.

Titled Thirai Premier League, the segment will feature a gamut of the most entertaining movies categorised under 'Super Hits', 'Blockbuster Hits', 'Popular Hits', 'Mass Hits', 'Ultimate Hits', 'Top Hits' and 'Mega Hits'. Movies under each of these titles are curated to provide maximum entertainment to Tamil cinema lovers all packed into a seven-week long extravaganza airing between 9 April 2021 and 30 May 2021, everyday at 7pm.

Click here to read the full story.