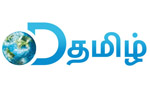 Celebrating the auspicious occasion of the Tamil New Year and underscoring the focus on culturally relevant content that is family oriented, Dதமிழ் (D Tamil) unveils the brand-new avatar of the channel with a redesigned logo and a slew of wholesome entertainment. The channel has today announced the launch of two new local series – Acham Yenbathu Madamaiyada, an adventure reality show which is co-powered by KIA and Asian Paints, and Suvai, a light-hearted cooking competition show co-powered by Asian Paints and BYJU's, both presented by Tamil artists which will go on air from 17 April only on Dதமிழ்.
Highlighting the golden hues of the revamped logo, the new look will be unveiled on social media with the stunning Tamannaah Bhatia adding her 'golden touch'. Being a cultural icon in the state of Tamil Nadu, the 'Annapakshi' motif in the logo serves as a connective point to the Tamil audience with their own culture and heritage. The new logo aims to evoke the feeling of family friendly content that's progressive, aspirational, and rooted in Tamil culture.

Click here to read the full story.