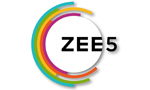 In what could be its biggest launch till date, Indian streaming platform Zee5 is all set to enter the United States market on 22 June.
With this, the platform has set the stage for its rapid growth in a market that has over 5.4 million diaspora audiences with a deep cultural and language connection to its content. Zee5 is currently under beta testing in the US. This direct-to-consumer service launch is especially significant at a time when Indians settled in the US, many of whom remain deeply connected to their roots, are unable to travel home.
The official announcement will be made at a virtual event where its platform and content will be unveiled. The company will also share key details about its plans for the market and its local partnerships, launch the brand campaign, and more.

Click here to read the full story.